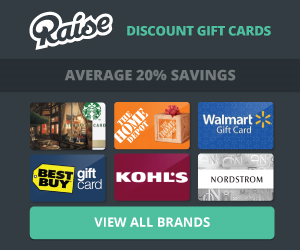 Today only, Raise.com is offering an additional 10% off of their already discounted gift cards, site wide.  All you have to do is use the promo code: SPECIAL.
Notes:
Max $20 discount
Expires on 4/20 at 11:59 pm CST
One-time use
If you are a frequent online shopper, buying gift cards from a site like Raise.com , can sometimes provide some significant savings at shops you already frequent.  Plus, if you do get a gift card, you can then go through a shopping portal for even extra savings!  One of our favorites is Cashback Monitor.  
From Doctor of Credit:
Raise.com is a marketplace where sellers list their unwanted gift cards for sale and buyers purchase them using Raise's secure checkout system. All transactions are handled exclusively by Raise themselves, and you'll never deal with the actual seller.

Raise offer an extensive line of gift cards, arguably the widest variety of any gift card exchange.

Someone who shops a lot can save a lot of money over time by using discounted gift card instead of paying full price. For example, a contractor might spend $30,000 per year at Home Depot. Buying Home Depot gift cards at a  5% discount would save them $1,500 over the course of the year.

Bear in mind that you will lose out on any credit card protections when paying with a gift card in place of direct credit card payment. For some purchases, it might be smarter to pay with a credit card directly.